We are pleased to announce the phased reopening of Disneyland Park and Disney California Adventure Park. All updates are based on guidance from health authorities and the appropriate government agencies.
Procedures may change as updates are made to health and safety processes based on guidance from the state of California and local health officials.
Learn what you can expect during your next visit and be sure to check often as information may change weekly.
With its two Disney Theme Parks–Disneyland® Park and Disney California Adventure® Park, three resort hotels and an energetic entertainment, dining and shopping district, the Disneyland® Resort is one of the premier vacation destinations on the West Coast.
In Disneyland® Park, stroll down Main Street, U.S.A., where Walt Disney's original vision still captures your heart and transports you to faraway places you could only dream about. Embrace world-famous classics like "it's a small world," the slicked icy slopes of the Matterhorn Bobsleds, and those beloved Disney Characters you're never too old to hug. .
Disney California Adventure® Park
Explore the newly expanded Disney California Adventure® Park where Buena Vista Street welcomes you to the 1920s when inspired young filmmaker Walt Disney first arrived in Los Angeles. Now get ready to rev your engines because that's the town of Radiator Springs you see rising up on the horizon.
You'll be floored in the 12-acre Cars Land where the Disney Pixar's hit movie Cars comes to life with high-octane attractions, dining and shopping. It's a one-of-a-kind Disney experience!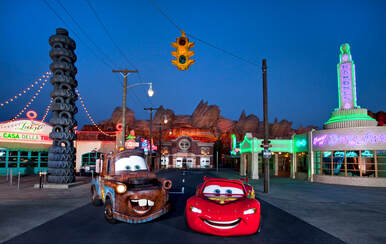 Meet some of the Earth's mightiest heroes and watch them leap into action to protect the Avengers Command Center. Deep within Avengers Campus, you can journey on an action-packed adventure alongside the amazing Spider-Man. Hop aboard a WEB Slinger vehicle and help weave a web to trap neighborhood sidekicks before the Campus becomes complete chaos.
Disneyland Information Request